Talent program ECARX
Do you want to develop the future of automotive infotainment? We are now looking for suitable individuals that want to be part of a trainee program in collaboration with our customer ECARX. In this role, you will be part of a tailored program where you get the opportunity to promote your technical knowledges and skills. You will be able to expand your practical work experiences while simultaneously get in-depth competence development by educational efforts and courses.
ECARX
ECARX is a growing international company within the automotive industry. Although founded quite recently, it has grown rapidly and currently operates in China as well as Europe with more than 2 000 members. ECARX is working with transforming vehicles into seamlessly integrated information, communications and transportation devices. They are shaping the interaction between people and cars by rapidly advancing the technology at the heart of smart mobility. Currently, the core products include vehicle chip-sets, 5G-powered intelligent cockpits and intelligent driving sensors. ECARX is also developing a full-stack automotive computing platform.
What will you do?
As a member in one of ECARX development teams, you will:
Develop, setup and maintain software components, and build and maintain physical test environments, typically HW rig
Develop and maintain low-level software for future infotainment systems
Develop market leading in-car apps within the Android eco-system
Who are you?
Our customer believes in diversity and is thus looking for someone who want to be part of an oriented and ambitious team. We are therefore looking for you who is a team player, providing a humble touch and eagerness to learn new things.
We see following competences as a qualification for the role:
Ability to use and improve your modern C/C++ skills to develop products and APIs
Familiarity with modern agile practices, process, and development tools
Interested in working with AOSP and Android development using Java or Kotlin
Experience with: C/C++, Java/Kotlin, Python, Android, Jira, CI/CD, Git, Confluence, Agile practices, Linux, QNX, AOSP, embedded and test automation
A creative mindset and an interest in finding solutions to new challenges
Collaborative working style with strong influencing skills
Preferably you have done your thesis within the Automotive area
Additionally, English is a requirement and Mandarin is meritorious.
What will the company offer you?
You will be a part of a highly skilled team in our customers' growing ecosystem, where you will create experiences for international car users through smarter in-car digital system. Our customer promotes a working environment that is focused on collaboration, encourages learning possibilities and strives for engineering excellence. You will therefore be part of a diverse culture, where ideas are celebrated and included in the daily work. Our customer believes in human potential and supports the continual growth and development of the team. A growth mindset and an eager for having fun at work is something you will being able to receive at this company.
If you are thrilled to take on a new challenge and strives to grow from new experiences with talented teammates along your side who share the same passion for technology as you, this is an opportunity that would be suitable for you.
We are excited to receive your application and to take a further dialog with you, where we can tell you a little bit more about the position.
Apply using the following link if this sounds interesting to you: https://pnty-apply.ponty-system.se/cilbuper?id=146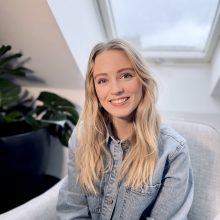 Kontakta mig om du har frågor!